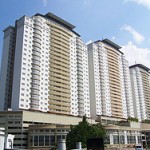 Situated on Jalan Kasipillay, near the K.L. Performing Arts Centre, Putra Majestik is easily accessible to local transport and the city's major business, financial and commercial districts.
Offering a total of 622 residential units in three Blocks, the Putra Majestik residence enters Summer Avenue that features new boutiques, food and beverage outlets.
Putra Majestik offers more than just modern landscaping and interiors with K.L. City or Kenny Hill views. The Residences feature gated access, 24 hour security, CCTV, exterior and garage parking, internet & cable access, swimming and wading pools, sundeck and a children's playground.
For information about available units please contact our Sales Office.
Thank you for visiting!